Shopping Cart
Your Cart is Empty
Thank you for your business!
You should be receiving an order confirmation from Paypal shortly.
Exit Shopping Cart
Goldendoodles & Mini Goldendoodles are one of the fastest
growing breeds in America for popularity.
This is because the Goldendoodle & Mini Goldendoodle is such a
beautiful breed.
In every way!
From looks,smarts,loyalty,and many more assists.
On this Page you get answers to some Frequently asked questions .
And pictures of Goldendoodle hair types!
Typical Wavy coated Mini Goldendoodle from Dreamdoodles Kennel!
Lucy F1 Mini Goldendoodle, Harmony and Franky Baby!
Pictured here Full Grown 50Lbs!
Hi Jamie
Here are some pictures of Zoe (F1B Standard Doodle)
Zoe's parents are Fozzy and Clancy and she was born August 30, 2004.


Goldendoodles are a wonderful ,and a very smart breed .
They are very happy and want everyone to love them.
When your Goldendoodle is sitting beside you or playing in the park
they are always Happy.
Make your family complete just add
that Dreamdoodles Goldendoodle to your life!


Typical Wavy/Curly coats Mini Goldendoodle from
Dreamdoodles Kennel!
Which are typically non-shedding
and hypo-alergenic!

This is a size example : Paris is a Toy/Mini Goldendoodle
Gloria is a Medium Goldendoodle!

Mini Goldendoodle Otis at 5 Months old!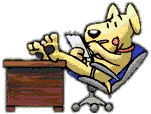 Goldendoodles are so smart that they are learning a new trick almost daily.
When you get a doodle you have to be ready for a dog that needs time with
you . They love to run and play, they need to learn and want to learn. New toys,
new games, new adventures.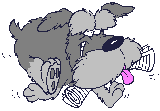 Paris loves to jump to catch her toys! Boy can she jump!

Goldendoodles Love the Snow!

Basically you don't want to bath any Mini Doodle too much because you will wash
all the natural oils from thier skin making dry flakely skin that is irritable.
So just bath when your dog is dirty.


Your puppy will be already eating Royal Canin Food . I will supply you with a small amount
to get you started plus a coupon for a free bag.
So I suggest to keep your puppy on this food for at least 6 months
so not to upset their little tummies.
I feed three times a day. They will let you know if they need more . If the puppy
eats their food very fast and they are looking for more.
Just increase each feeding, by alittle bit.

Goldendoodles are so loyal that they will do almost anything to please you.
If you give even half that back in Love you will have a great life long
relationship with your Doodle!

Frequently Asked Questions :
What shall I bring when I pick up my goldendoodle puppy?
You should bring a bottle of water and bowl if your trip is longer than 1 hour as well as a small collar and leash for
potty breaks and paper towels just in case the puppy gets car sick.
We send puppy home with his/her Blanket/Toy which has his/her moms and siblings scent on it to make
the transition from our home to yours less stressful.
Taking puppy home in a crate can be very stressful so if you are picking puppy up by yourself I suggest and small laundry basket,
that way puppy is safe but you have access and puppy can see you and will feel a lot more secure.
Make puppies first introduction to the crate a happy time.
When is the next vet appointment?
__Your puppy will have received his/her first set of needles will be dewormed and will have a health certificate,
the next vet visit should be scheduled no later than four weeks after the first set of needles, and then four weeks
after that for the third set and a rabies shot.
If possible a Veterinarian should be lined up ahead of time.
What kind of supplies will I need at home?
You will need a crate if you are crate training, an x-large for standards a large for mediums and a medium size for minis, bowls,
collar, leash, teething toys, puppy pads or newspaper, a pin brush, nail trimmers, scissors with rounded ends for trimming around eyes,
ear cleaner, cotton balls, a bottle of bitter apple spray to spray on shoes, wooden furniture etc. treats for training,
a spray bottle with half vinegar and half water to cover up the sent of accidents.
Great Potty Training aid!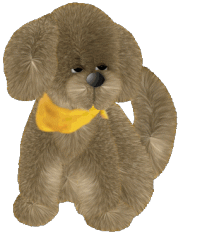 Just like Goldens, GoldenDoodles love Kids!
Mini Goldendoodle Roxy and her best Friend!
Lucy's first hug from her new friend!
Bailey going home with new Friend!
Abby playing with her new Friend!
Hi Jamie,
I am so sorry it has taken me this long to send you an update on Gaige. He has grown so much our last vet visit was last Friday and he is now 17 lbs.
He is a little ball of energy and it sure didn't take him long to become apart of the family! He is an excellent traveller and loves the beach!
We are enjoying him so much and have even recommended the breed to another family from Wawa who I believe contacted you!
He is a smart little guy and mastered simple commands within 2 weeks of being with us!
I would like to thank you again for helping us find the perfect 4 legged addition for our family!
Thanks Again,
Jeff, Ashlee, Ethan & Kolten Austin

Hi Jamie, just wanted to drop a quick note on Rusty's progress.
We've had rusty with us for the last month and a half and he has become a very integral part of our family.


Rusty is now almost 4 months old and he is 23 pounds. He is really a bundle of joy full of energy.
We are now taking him to a puppy kindergarten and he enjoys it very much.
He is a very well tempered dog. I have got this comments from my vet and from the folks in the puppy class.


He loves to travel with us in the car and he always tags along with us to all of our kids programs.
He even goes to my daughter's violin class and sits on my wife's lap.


He is well on his way on house training. Other than some occasional accidents he is house trained.
Crate training was a piece of cake with him. He loves his crate.


The vet gave him a clean bill of health. She was very impressed with his perfectly formed teeth.

Jamie, I just wanted to thank you for assisting us in finding a great addition to our family.


I have attached some pictures.


Thanks


Greg, Veni, Keith and Chris
Just wanted to send you a quick update on Gunner. (Faith and Lucas's
male #3) he is now 22 weeks and weighs 24 lbs. In a word, he is
amazing. Gunner is my very first dog, but everyone who has met him and
has owned a dog marvels at how calm and friendly he is. When I take
him for a walk, all passersby are greeted by a dog who sits as they
approach and his tail vigorously wagging. He is at the top of his
puppy class and is super affectionate. Gunner loves to be around
people and loves the attention he receives from everyone. I have been
stopped numerous times and asked what kind of dog he is, his breeder,
etc and even if they could take a photo with him!
Jamie, what an amazing pairing and clearly excellent breeding. He is
truly a very special dog. I may consider making Gunner a therapy dog.
He brings people a lot of joy.
I will be having him neutered within the next month and will send you
the paperwork once it is complete.
I could not be happier with the newest addition to our family.
Many thanks
Tania Del Rizzo
Bill or Jamie
Ontario , Canada
1-519-369-5676
#1 Mini Goldendoodles, Mini goldendoodles, Goldendoodle,Mini Goldendoodle,Goldendoodle Breeders,Toy Goldendoodles, Goldendoodle puppies, F1b Goldendoodles,Labradoodle Puppies,Mini Goldendoodles.


/